A firm favourite with children and adults at Christmas. Not just for the taste either! They're fun to make and creating the different shapes is all part of the fun. They're at their best when you take them out of the oven just at the point they have a little squish to the texture. Then let them cool and they'll be perfect for treating the family this Christmas.
Ingredients
Flour
Light brown & dark brown sugar
Ginger
Cinnamon
Salt
Baking Powder
Bicarbonate of soda
Ground Gloves
2 eggs
Mix the dry ingredients together, flour, ginger, cinnamon, salt, baking powder, bicarbonate of soda and ground clove.
Cream the butter and sugar, then add the eggs.
Spoon the dry ingredients into the mix and then work to a dough by hand.
Refrigerate for 45 minutes. Then roll and cut into shapes ready for the oven.
Bake in the oven. Allow to cool before decorating with icing.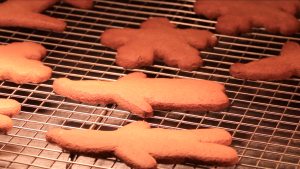 Our Awards
Knowsley Hall are proud to have received several prestigious awards.